Tattoos in a calm and peaceful studio
to provide an environment for transformation and self-discovery. Make sure to click, "view entire message" as sometimes mail programs may cut it shorter than it is. Thanks again! <3 Katia
Monthly Newsletter  -  October 2017

 

                     View this email in your browser
As leaves change from summer to fall, our minds mirror and accept this. We understand that in order for spring to come, the leaves must be shed. Yet October needn't be a month of sadness, but a time to explore a new level of ourselves, the level that was reborn after we shed our leaves.

September was another beautiful month. Some of the Rainfire ladies ventured a trip to Imagine Arts & Music Festival. Beside the heart of the music they set up the comfy and cozy Drawing Tent, offering a peaceful space for drawers to gather. This was inspired by Katia's search for a place to draw at events. In similar theme, Katia and the shop manager Volante also joined a group of visionary artists hosted by the talented painter, 

Autumn Skye Morrison

, for an art jam earlier in the month.

We bid farewell to 

Caroline Cloutier

, as she continues her tattoo journey in Victoria. However don't worry, she will return as a guest artist in the future. We welcome another friendly face, 

Ashley Apok

 who has returned to the team at Rainfire Tattoo for the next foreseeable future! His designs bring an element of strength and wisdom from his travels throughout Nepal and Thailand.  As well, in the month of October, guest artist 

Tedd Hucks

 will be back in the studio for a brief visit. He is booked up already however be prepared next month for photos of Tedd's artwork at Rainfire:)

Apprentice 

Faye Cantara

 currently has her books open for the next 2 months. Contact her or Felix Addison if you'd like a custom design. Alternatively, have a look at the available designs below by Katia, Ashley, and Faye, each only ever tattooed once. 
Original Designs for October 2017 by Katia Somerville
Below are the available designs by Katia Somerville that you may apply for in October. Each only tattooed once. I hope you find your perfect tattoo  (link to application is below the designs). 
Please note that the images you see below are only design placement ideas. These designs have not yet been tattooed and will only ever be tattooed once. Also, please don't copy or duplicate these designs for any reason. 
(ABOVE) The Calm by Katia Somerville
Calm waters, embracing perfect harmony and stillness within. Letting the ripples settle around us and trusting emotions as they come.
This tattoo would also look great on one person, however preference will be given to requests of a friendship, sister or mother/daughter, etc. placement. 
(ABOVE) Unraveling Patterns 
by Katia Somerville
The layers of dimension and perception, shifts and move before our eyes.
Emotions are the same, changing, re-creating.
Becoming what we make them.
(ABOVE) Full Bloom of Connection
by Katia Somerville
The web of consciousness and unconsciousness and all points
in between
are joined in places within our dreams. 
Open to other placement suggestions
(ABOVE) Time to Breathe by Katia Somerville
Like the flow of a waterfall,beautiful, delicate and unrelenting.
So is life and love.
Will fit the side petals to match the flow of the body. 
(ABOVE) Home is Where the Path Is. by Katia Somerville
This design is about finding stability at home and being able to move forward. 
Armour of protection, in the right direction, 
grounded and solid, lightly move onward.
(ABOVE) Majestic Dignity by Katia Somerville
Proud elegance looks good on you.
A simple design for either the ankle or wrist placement. May be a good 'first tattoo'
  ---  TO APPLY FOR ONE OF THE ABOVE DESIGNS by Katia Somerville  ---

> Fill Out the Tattoo Form Here <
> These tattoo designs will only be shown in this newsletter on the first of each month and on the website blog.
> Each design will only ever be tattooed once and the recipient will be chosen mostly at random.
> Applications will be open from 12:00am-10:00am on October 1st and we will be emailing people on Tuesday. 
*These are original art works by Katia Somerville. With respect, please do not duplicate her designs, bring them to another tattoo artist nor post them online. All tattoos are one-time custom pieces that Katia has drawn with intention to share with her community.
Thank you for your continued support as Rainfire Tattoo grows and evolves.
Original Designs for October 2017 by Faye Cantara
Please email Faye if you're interested in one of the below designs. Faye has openings at $120/hr. Each design is unique and only tattooed once. Please note, these designs are also available to be tattooed in Toronto between October 25th-November 1st, 2017.
This email address is being protected from spambots. You need JavaScript enabled to view it. (please use the design name as the subject of your email!) 
September Tattoos by Katia Somerville
Respectful communication is an essential and truly awe-spiring ability. A pleasure finishing off your geometric sock! See you next time Ryan.
Sitting with stillness and attuning the mind out of the beta wave frequencies increases intuition, trust, and relaxation. This has been the greatest teacher for me. Find the answers within. Part 2 on a sleeve progression for Kyle. 
'You can't think one way and feel another and expect anything in your life to change. The combination of your thoughts and feelings is your state of being. Change your state of being and change your reality.' Joe Dispenza from a book I've been reading called Breaking the Habit of Being Yourself. Thanks Alex for your trust before changing your life and moving to Germany. We plan to turn this into a sleeve before the big move in a few months.
Listening- The voice that inspires us from within, can be stronger and wiser than anything outside the surface. Gather this strength and move forward with the power of your own knowledge.
Trust tattoo for Candase, who is going through a transformation. This tattoo has plans for expansion down the leg. Thank you for your trust and bright energy in the studio.
Balance persistent manifestation with patience and trust of divine timing. 
Rebirth

- Strength emerges when finding peaceful inner nature within our chaos. This allows us to rise from the water into the realm of who we want to be

.  

This is the first half of the tattoo, which will be extended onto the other arm. 
September Tattoos by Faye Cantara
Last week was a bit of an emotional roller coaster - grateful that Arianna brought me the concept for this gentle and tender piece at the right time!
The title 'studio manager' barely scrapes the surface of what Volante means to Rainfire Tattoo...Floral Armour as the first of (I hope) many more designs that I get to tattoo on Volante! Love you pal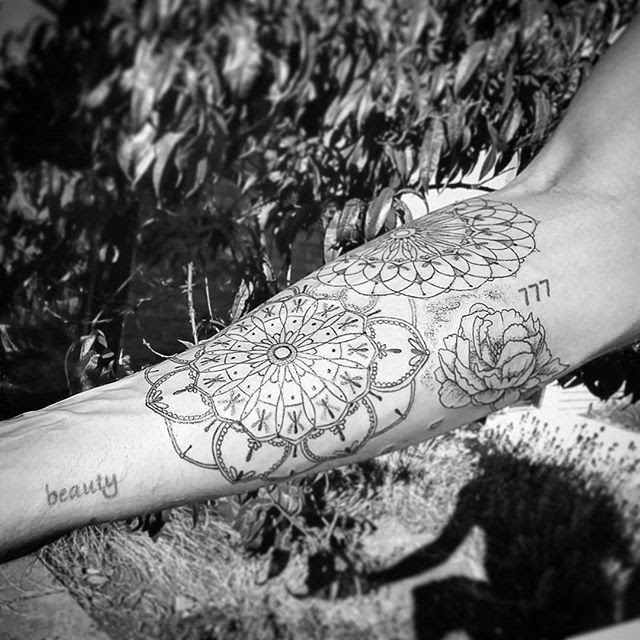 'At the day's end, you'll see my scars and know that I had my wounds and also my healing.' A couple of delicate mandalas and a peony for Farhad 
Amanda contacted me at the beginning of my apprenticeship. Every few weeks I'd get another email from her full of supportive words as she followed my work and progress. On Friday she finally made it down from Prince George to add some love to her existing ankle tattoo...what a warm and bright soul! It was such a privilege to finally meet you, Amanda!
Kumiyo is so full of wisdom and life - so lucky to tattoo you during this stage in your journey! 
Faye getting ready to tattoo Rainfire's shop manager, Volante
September Tattoos by Felix Addison
An ornamental half sleeve evening glove style with an elephant to commemorate time spent among these creatures which warm her heart. Birds on hand by a different artist.
Aries ram, the start of a sleeve to honour family members represented by their astrology signs.
A lotus reflecting peace, harmony, and alignment centered on the heart.
Lotus designed around an existing piece from long ago, this piece symbolizes regrowth after hardship and renewal of spirit after lessons learned.
September Tattoos by Ashley Apok
'Wandering Temple' selected from my July design sheet and tattooed at @rainfiretattoo. Love and light!
Stoked to have a healed photo of this tattoo I did in Bali a few months back. Great to spend some time catching up with @_littlekingdesigns on this side of the planet. Bless!