Tattoos in a calm and peaceful studio
to provide an environment for transformation and self-discovery. Make sure to click, "view entire message" as sometimes mail programs may cut it shorter than it is. Thanks again! <3 Katia
Monthly Newsletter  -  December 2017

 

                     View this email in your browser
Tis the season for celebration, connection and coziness and Rainfire Tattoo wishes you happy holidays. Katia is fully booked into January and so she is only offering one design this month. More designs to come in January's newsletter.

This email address is being protected from spambots. You need JavaScript enabled to view it.

and Ashley are currently accepting a limited number of custom tattoo projects. Please contact them directly by email for inquiries. Felix currently has her books closed.
We are in the process of restructuring the front desk staff; Kylie has been hired in the role of Katia's administrative assistant while we conduct interviews for a receptionist/shop manager. Thank you for all of the referrals, applications for this position are now closed. We hope to announce our new team member in the new year. Also, Rainfire is pleased to announce a new tattoo artist to our team. We are very excited to welcome Amelie, who will be joining us as a full time artist in the new year. Amelie's books will be opening for new clients in January.
Lastly, 2017 was Katia's 10th year since she started tattooing during her apprenticeship. It has been a long road of learning and discovery, and she is looking forward to many more years of growth and learning this amazing art form that can really help people change in positive ways.
Have a wonderful December <3
Original Designs for December 2017 by Katia Somerville
There is only one solo design available this month by Katia due to a busy season. (There is also a 2 person collaboration design below). Each of the designs are only ever tattooed once (link to application is below the designs). *There is no 'Trust Tattoo' this month, and they will resume in the next upcoming months. 
Please note that the images you see below are only design placement ideas. These designs have not yet been tattooed and will only ever be tattooed once. Also, please don't copy or duplicate these designs for any reason. 
(ABOVE) Peaceful Embodiment  by Katia Somerville
Ancient roots of rejoicing inspire personal transformation as customs repeat and reshape. It's important to gather strength at this time of the year which can be a lonely time, and spread positivism to those around you. 
Collaboration Design by Katia Somerville and Ashley Apok
(ABOVE) Collaboration of Connection, by Katia Somerville and Ashley Apok
This design is meant for two people who want to honour a deep connection. Both people will be able to get tattooed at the same time by Ashley and Katia at Rainfire Tattoo. The design on the left was drawn and will be tattooed by Ashley while the design on the right was created and will be tattooed by Katia. The dates on this tattoo will be booked in January or February. If you would like to apply for this tattoo with a loved one, please fill out the form below. 
  ---  TO APPLY FOR ONE OF THE ABOVE DESIGNS by Katia Somerville  ---

> Fill Out the Tattoo Form Here <
> These tattoo designs will only be shown in this newsletter on the first of each month and on the website blog.
> Each design will only ever be tattooed once and the recipient will be chosen mostly at random.
*These are original art works by Katia Somerville and Ashley Apok. With respect, please do not duplicate her designs, bring them to another tattoo artist nor post them online. All tattoos are one-time custom pieces that the artists have drawn with intention to share with her community.
Thank you for your continued support as Rainfire Tattoo grows and evolves.
Rainfire Tattoo 2018 Calendars and Colouring Books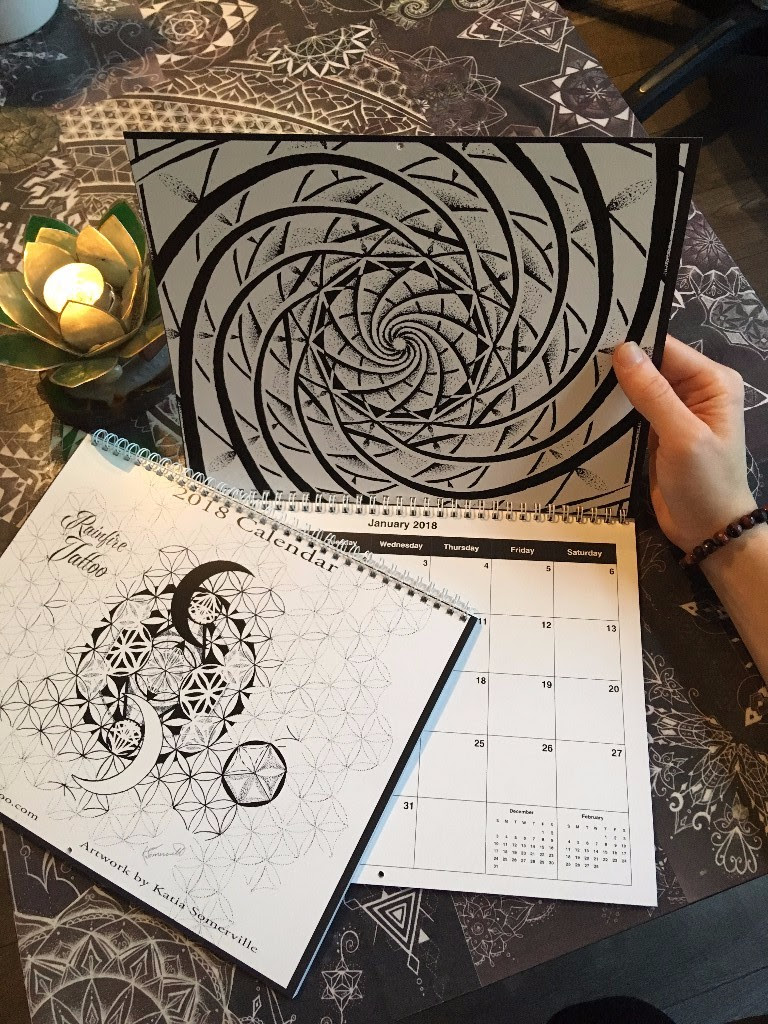 2018 Calendars featuring artwork by Katia Somerville.
Colouring Books featuring artwork by Rainfire Tattoo artists.
Rainfire Tattoo calendars (2018) and colouring books are now available for purchase on our etsy shop. Featuring original artwork by Katia Somerville, Felix Addison, Ashley Apok and Caroline Cloutier. Limited supply! Please order through our etsy shop by clicking here.  Happy holidays!  <3 Katia
November Tattoos by Katia Somerville
Trust tattoo for Candase. Things all happen for a reason, so embrace it and move on from the past to rediscover who you are tomorrow. 
I had such a lovely day tattooing Danielle. One of our conversation topics was about remembering names and I thought of a quote by David Carnegie, "names are the sweetest and most important sound in any language." Thanks for being so open with the design, Danielle, and I hope to see you again. 
Trust tattoo today for Michelle - Balancing the masculine and feminine, staying strong and discovering your true self.
The Surety tattoo from the November newsletter on yet another amazing client. It represents feeling grounded in your decisions and the ability to relax as the outcome unfolds before you.
Rebirth tattoo for Samir: Strength emerges when finding peaceful inner nature within our chaos. This allows us to rise from the water into the realm of who we want to be. 
Allow yourself to go through changes in life while stepping back from the ego and the way you perceive the world. This one is called 'The Shift' from the October newsletter designs.
'You never know how far you can fly until you spread your wings'. Back addition today around a good friend's butterflies.
Thigh tattoo today for Kate, a reminder to trust your intuition.
Trust tattoo, Angie didn't know what was being tattooed until it was finished. This tattoo represents keeping an open heart and allowing yourself to be vulnerable to what unfolds. Take each day one step at a time, if you don't have expectations, you won't be disappointed. 
Trust tattoo for Carla who has supported the studio for many years. The bottom wrist mandala was tattooed by Tedd Hucks on one of his previous visits to Rainfire Tattoo and Katia added to it at the top. This mandala almost went on Carla's calf, but at the last minute we decided it would instead make a good addition to the art already on her arm. This tattoo is a reminder to focus on self care.
November Tattoos by Faye Cantara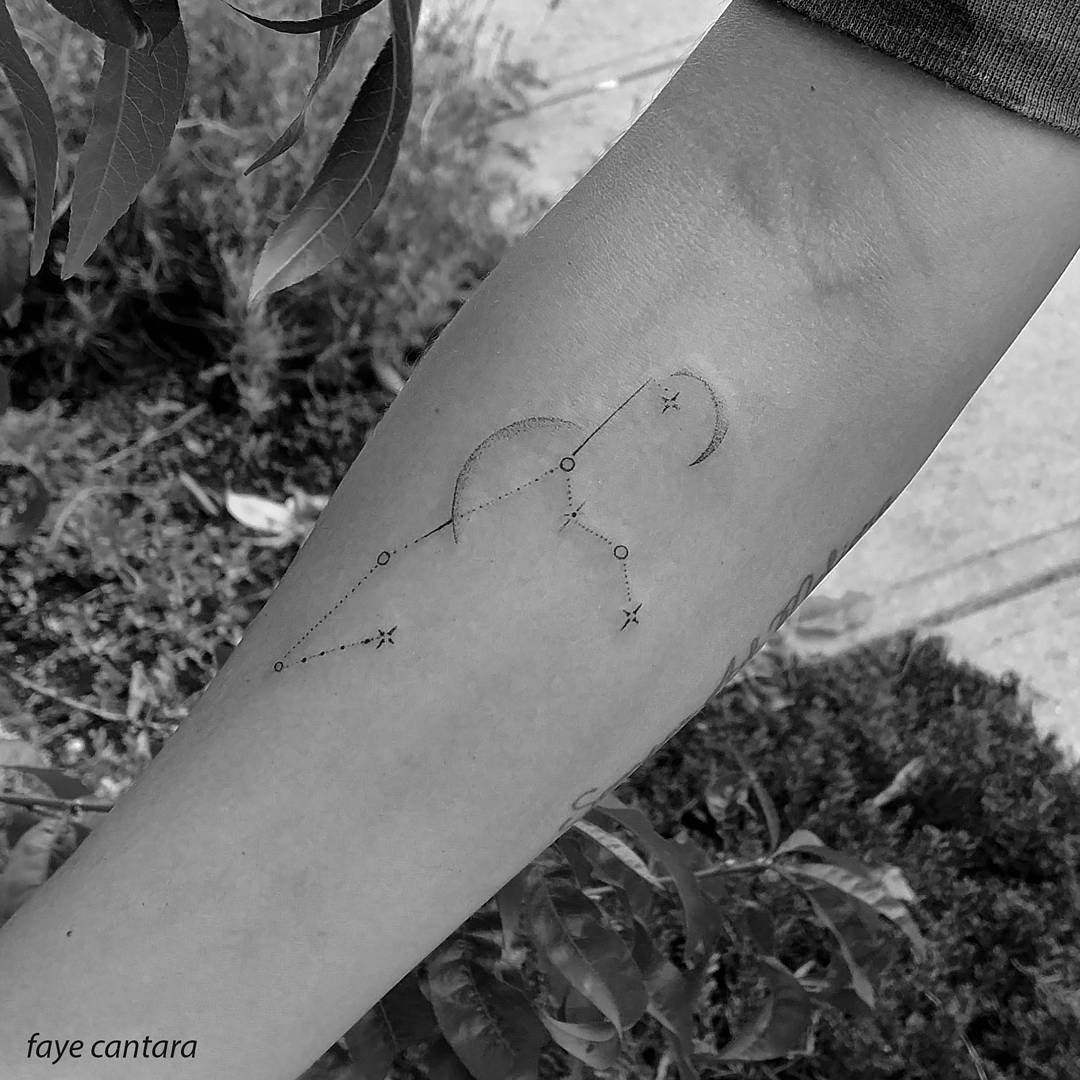 One of the earliest recognized constellations, Leo, for Thais.
This project with Gemma means SO much to me. I drew the beginning of this design before I started tattooing, with no intention of tattooing it for at least a year. But here it is 8 months in, with a few additions and more to come in the future! Thank you so much for your trust and amazing conversation.
Some detail from Irek's expanding sleeve.
A design from an earlier newsletter: Fledgling for Kal, who's about to welcome his second little birdie into the world...can't wait to meet you, little pal!...Update: He was born as we put this newsletter together! <3
Darkness cannot drive out darkness - only light can do that. 
A step in Kim's journey of self-love and compassion!
A fun day adding onto an existing Princess Mononoke tattoo (not by me) - have an amazing year in Japan, Ryan!
Ferocity and delicate florals to honour Giselle's mother. Giselle's ability to channel that energy and sit super still made for an easy 3 hour session. You're a star!
An amulet adornment for Deja.
A cattoo for a true cat mama, Natalie <3 (the beautiful piece on her shoulder was the first Trust Tattoo ever by Katia!)
Arianna received one of my first newsletter designs (left arm) this summer, when I was just beginning my apprenticeship. Such a pleasure tattooing these mandalas for you
!
November Tattoos by Ashley Apok
Started this matching ornamental shin armour for @aylaylay_ . Thanks for your presence and trust.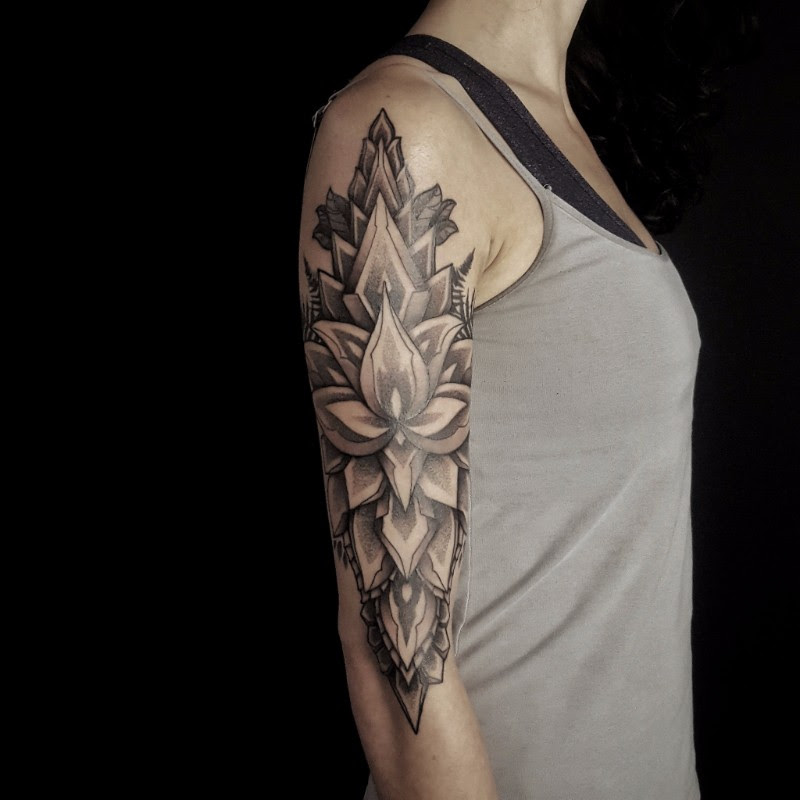 The abundance of the divine Feminine in nature is represented in this tattoo, 'Unfolding Alignment,' from my October Design Offerings. Thank you Mika, for wearing my art on your body.
I started this design, 'Grounded Levitation,' from my November design sheet. I'm super excited for our next session! 
I'm blessed to have amazing clients! Emily's ornamental wrapping wrist adornment. Thanks so much for your trust.
I started this geometric piece for Bijan's first tattoo. Excited to keep working on this one. Thanks for the great conversation!